Manufacturer of

Side Sealing Bag Making Machine

There are two core aspects that are associated with us, the first is quality printing and the second is quality converting and to achieve so we focus to implement state of the art technology. Bag making machine is the best example of our efforts. After the completion of printing film and slitting, what you need is to form it in the bag, which demands perfect leak proof sealing.

Our bag making machine is a result of the widespread experience and the rigorous testing, which ensures you the highest quality end product at the best reasonable rate in the market.

Our principle of no compromising in quality has enabled us to leave a strong impression in the flexible packaging industry. In order to append and respond to the diverse requirement of esteemed clients, we offer you supreme quality bottom sealing and cutting machine and two side sealing machine which are highly acknowledged by the clients for its durability and dimensional precision.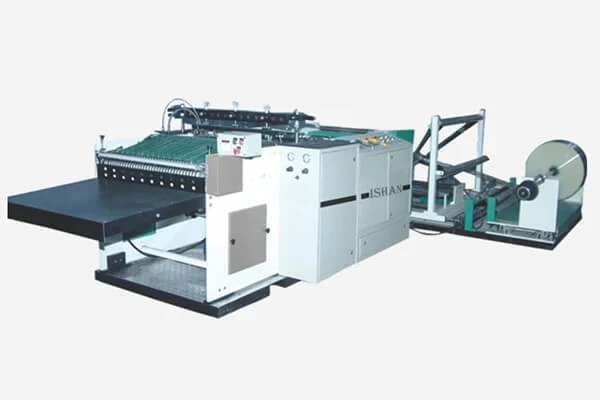 What is

Bag Making Machine?

Ishan International – Recognized manufacturer, supplier and exporter of wide range of Bag Making Machine which include full automatic Bag making Machine. The offered ranges of Bag Making Machines are hugely demanded among the customers for their unmatched quality and high performance. The offered ranges of Bag Making Machines are suitable for making vest bags, flat-opening bags. Machines are equipped with variable frequency speed regulating motor, having many automatic protection functions such as energy saving. It is equipped with computer touch screen, step motor and photo electricity to track, accurately and steadily. There are control devices like auto-counting alarming, auto-punching etc., which make the finished products well-sealed and nice-cutting with high speed and efficiency. It is an ideal environmental protection bag making equipment. Our machines are extensively demanded and valued for their smooth performance, hassle free operations and less maintenance. We are even engaged in offering our esteem customers with Biodegradable Bag Making Machine.