Slitting Machine Manufacturer
Center Slitting Machine

Manufacturer in India

The slitter machine also known as the slitter rewinder machine is highly used in the flexible packaging industries for conversion of film, paper or aluminum foil. The core function of the slitting machine is to convert a wide roll of any material into several thinner rolls as per the product requirement. We are providing the excellent quality slitting machine that is designed to achieve a defined and smooth cutting of any respective material. Moreover, we provide customization option in the slitting machine to meet the diversified need of the customers

Our slitting machine is superlatively performs defined slitting of various widths and various thickness material regardless of the speed. In which the slitter starts by unwinding a roll, at the time of the unwinding slitting process is accomplished by slitting the unwound roll into desired width, finally the slit material is rewound onto cores of different widths.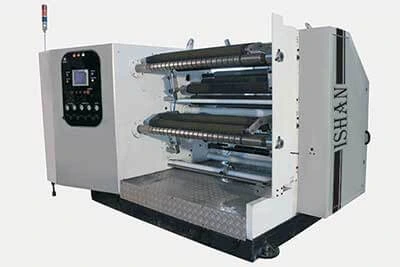 Get Best Price
OTHER

FEATURES
Defined End Product
Low Power Consumption
Low Wastage
Smooth Operation
| | |
| --- | --- |
| Company Name | Ishan International |
| Location | Ahmedabad, Gujarat, India |
| Business type | Manufacturer, supplier and exporter |
| Product name | Slitting Machine |
| Product type | Converting machine |
| Used in | Flexible packaging industries |
| Customization availability | Yes |
IRRESISTIBLE FEATURES OF

SLITTING MACHINE:
Sturdy construction: to ensure uniform cutting
rewinding: embedded with servo motor to ensure preferred unwinding of the roll
winding: embedded with servo motor to ensure preferred winding of the silted roll
Center drive drum: ensures accurate slit rolls
Counter balance system: to control pressure between rewind reels and center drum
Optional attachments of slitting machine: Web guide system, Pneumatic system for Arm, Clutch, Brake, Air shaft for unwind station, Digital line edge guide system, four motor, synchronized drives, Un-winder without shaft